Though a new
blog friend
I found this blog,
a Place Called Simplicity
and they are hosting a Crazy Love Challenge. If you are in the process of adopting and fundraising you can put a link on the blog to help spread the love. So you may not need a coloring book but check out these other fundraisers. What a fun way to shop and help a little one come home!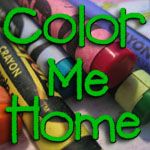 For those that are just stopping by from Linny's blog, Color Me Home is a fundraiser that we have created to help with the expenses of adopting our son from Burundi. Jim draws all the pictures himself and then we bind them into fun coloring books. If you want to learn more about our crazy and not so ordinary family check out
No Ordinary Family
.
If you would like a coloring book use the donate button and let me know which one you would like in the notes section or
email me
. We are asking $5 per book and $2 for shipping the first book and $1 for each additional book. Any help is really appreciated!
Thanks for visiting.
Cora